By installing the KB3114503 https://support.microsoft.com/en-us/kb/3114503 all the listview webparts on your SharePoint 2013 server displays this error repeatedly.
"TypeError: Cannot read property 'replace' of undefined"
With danish localization it looks like this:
"TypeError: Værdien af egenskaben 'replace' kan ikke hentes: Objektet er null eller ikke defineret"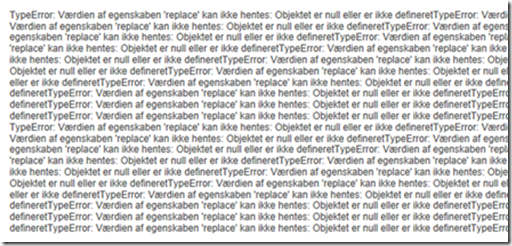 Workaround
Apparently a workaround is this quickfix https://www.reddit.com/r/sysadmin/comments/40tvqn/quickfix_patch_kb3114503_causes_sharepoint_to/ where you modify the view to display the item title colounm (linked to item) instead of (linked to item with edit menu).
Some reports states that a solution is applying January 2016 CU. And that the KB3114503 update is unable to be removed after installation.
So remember to turn off automatic windows update and test any patch/CU before production!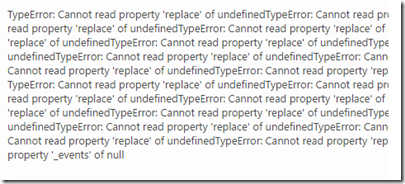 More
To learn more about the vulnerabilities the KB3114503 fixes, see Microsoft Security Bulletin MS16-004.
Note To apply this security update, you must have the release version of Service Pack 1 for Microsoft SharePoint Foundation 2013 installed on the computer.
Sources